Patient Profile
Female 18 yo
Treatment Start Date: 3/24
Treatment End Date: 8/13
Treatment Duration: 5 months
Solution: Miracle of the Sea Serum with 2% Natural Marine Extract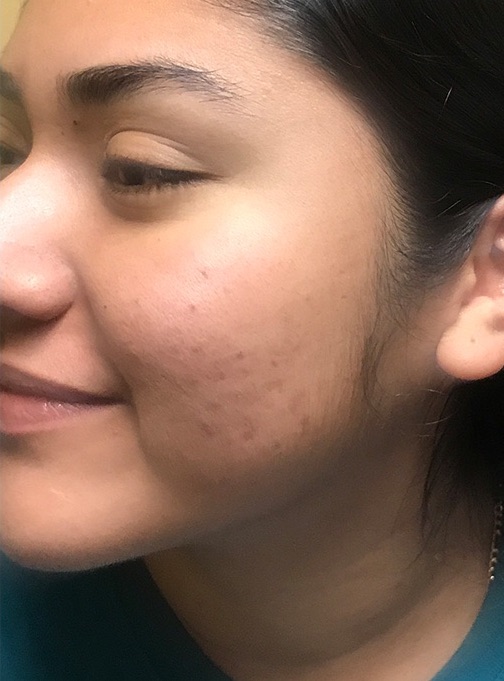 Before and After Images are of 18 year old female with long history of acne scarring. Patient used Miracle of the Sea Serum once a day from March 24 to August 13, with amazing results.
Clearing my acne scars has changed my life. I go to school dances and sporting events when I never did before. I feel good about seeing people.

~ Blanca M
When used as directed, one bottle of acne scars treatment for the face should last 6 to 12 months for the 45ml lotion/gel and 60ml of serum/almond oil; and 3 to 6 months for the 30ml size of serum/almond oil.
Using Natural Marine Extract over surgical options, makes treating acne scars affordable for everyone.
The older the scars, the longer it will take to heal. Treatment will vary among subjects also. Please use these examples only as a guide:
Scars less than 5 yrs - about four to five months
Scars older than 5 yrs - about four to eight months

Miracle Of The Sea with Natural Marine Extract Serum can be used on all parts of the body.
Complementary products include the Miracle of the Sea Aloe Vera Gel and Almond Oil with Natural Marine Extract. The Almond oil is usually used for drier skin whereas the Aloe Vera Gel and Serum is commonly used for oily skin.
After applying your chosen topical with Natural Marine Extract (NME) directly to the skin, vigorously massage for 20 seconds. This dramatically increases NME effectiveness and should be applied daily. After you massage in Miracle of the Sea, you can add your favorite moisturizer to massage in further if it seems helpful.